Magnet Kitchen Utensil Set
for Modori, 2021
Modori makes the kitchen we want to stay in by making kitchen tools that are safe, practical and beautiful for our lifestyle. Modori cookware was also designed according to the three keywords of safety, beauty and practicality.
Modori cookware used silicone. Silicone is harmless even at high temperatures generated during cooking and is not easily deformed. It can also be sterilized by boiling water in 100 cities. In addition, it does not make scratches or stick to the surface of frying pans or pots due to its elastic properties. It can be used comfortably without being careful.
In order to maximize the advantages of silicone material, we made it in a way that the entire cooking utensils were wrapped with silicone. In the case of the existing silicone cookware, only the head is made of silicon and the handle is made of other materials. 
For this reason, the existing product had the disadvantage that foreign substances were caught between the two materials and the parts were separated. We were able to solve this problem by wrapping the entire cookware in silicone.
Silicone has the advantage of being able to create a variety of colors. When we selected the color of cookware, we borrowed the color from the food most closely related to the cooker. Therefore, light colors were used for low-contamination foods, and dark colors were used for high-contamination foods. In addition, gray-colored cooking utensils are provided so that consumers can use them freely from color transfer.
In designing the handle, we found a form that anyone can use easily in any way. We pursued the most general usability rather than the special shape for professionals, and we were able to find the simplest cylindrical shape.
It was intended to provide more convenient usability by using a magnet in the storage/drying method of cooking utensils. The end of the handle of Modori cookware has a built-in magnet, so it is easy to store / dry after washing. Even if you want to store cooking utensils for a while while cooking, you can easily store them in the magnetic holder.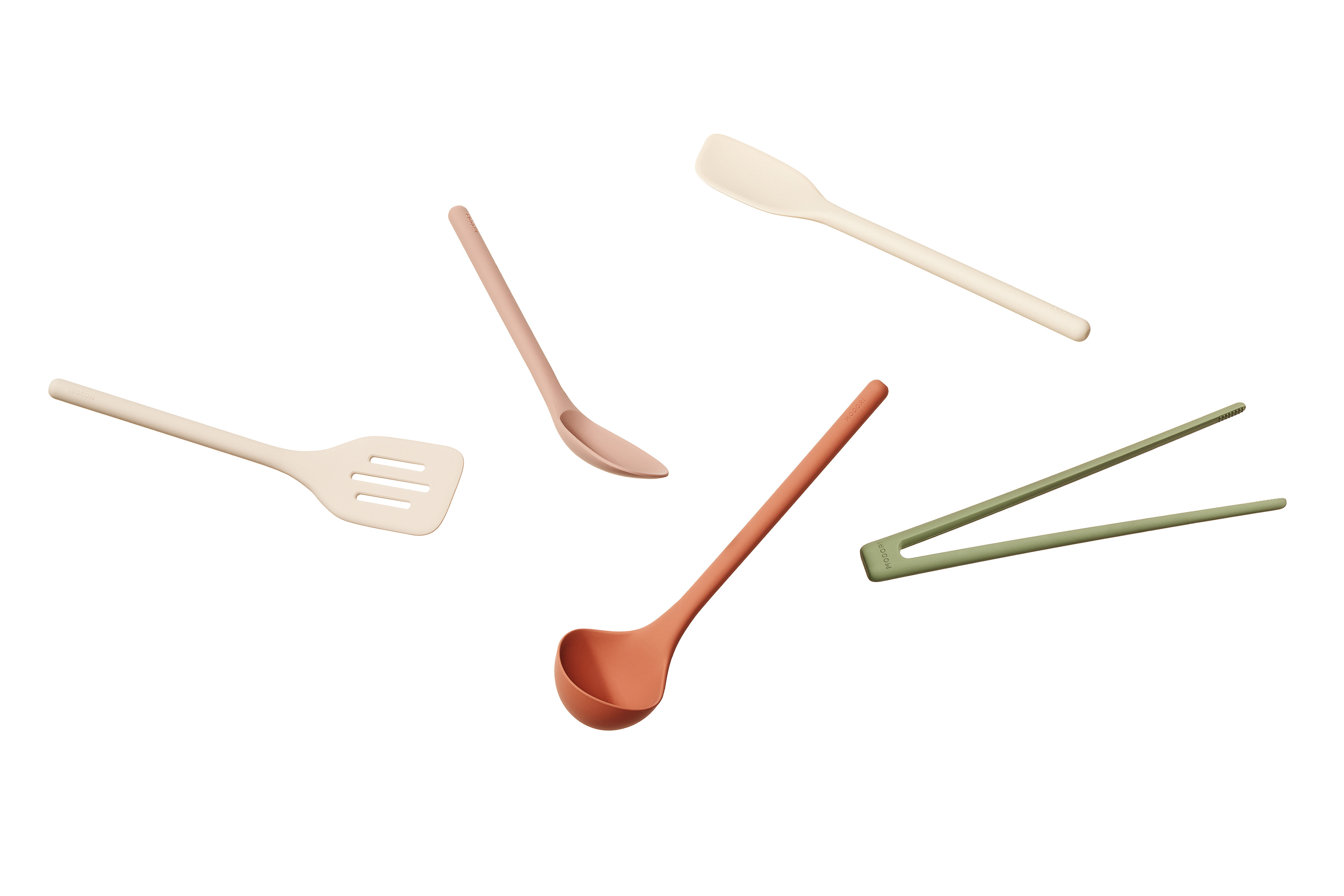 https://mdri.kr/
Product Design
: ilseop Yoon
Photography / Studio 
: Sang-ho Son 
Photography  /  Location 
: Jun-yeol Lee, Hak-seon Lee
Contents PD 
: Tae-Jun Ahn
Product Planning
: Soo-jin Kim, Geun-young Moon
Assistant Designer
: Young-jin Cho, Tea-sung Kim
isy studio.